Event Date: Tuesday, January 19, 2021
The Tax and PPP Provisions of the Emergency Coronavirus Relief Legislation
Posted in: Events Featured Tax Law Events Tagged: David S. De Jong, Jeremy M. Vaida, Mark W. Schweighofer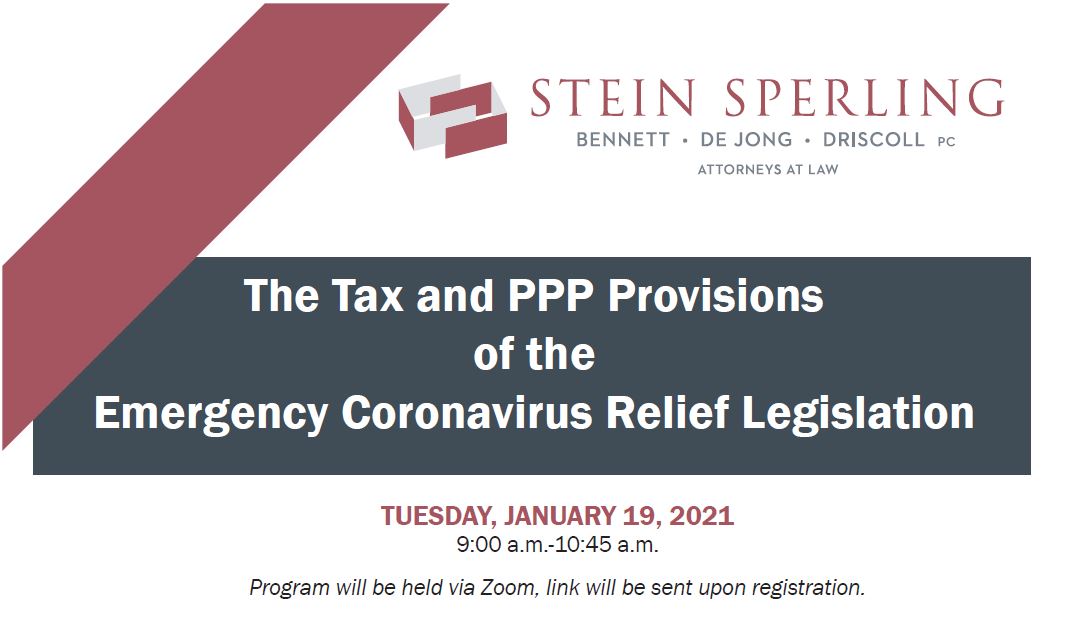 Time: 9 a.m.-11:40 a.m.
Speaker: David S. De Jong, Mark W. Schweighofer and Jeremy M. Vaida
---
Besides overriding the IRS and permitting the deduction of wages and other expenses paid with forgiven PPP loans, the long-anticipated Emergency Coronavirus Relief Legislation contains numerous other tax provisions such as a second recovery rebate and a 2-year renewed deduction of 100 percent of business meals. PPP provisions modify the existing program and create a new tranche of loans. Stein Sperling principals David De Jong and Mark Schweighofer have selected the most important tax and PPP changes from the law's 5500-plus pages.
A total of 2 CPE credits are available. Code words will be provided for proof of attendance.
Bonus Session Added: Maryland Passthrough Entity Tax: Planning Around the $10K SALT Limitation
On November 9, 2020 IRS surprised the tax community by blessing in principal a "workaround" to the ceiling on state taxes as an itemized deduction in the form of a state tax at the entity level on partnerships, LLCs and S corporations. Earlier in the year Maryland had enacted such an optional tax with a credit against liability on the owner's return. This session presented by Jeremy Vaida will examine the law, the issues in opting for entity level taxation and, most importantly, a line by line look at the applicable Maryland forms. 1 CPE credit is available for the bonus session.