November 1st, 2018
Stein Sperling Transitions Managing Partners
Posted in: Firm News Tagged: Jeffrey M. Schwaber, Millard S. Bennett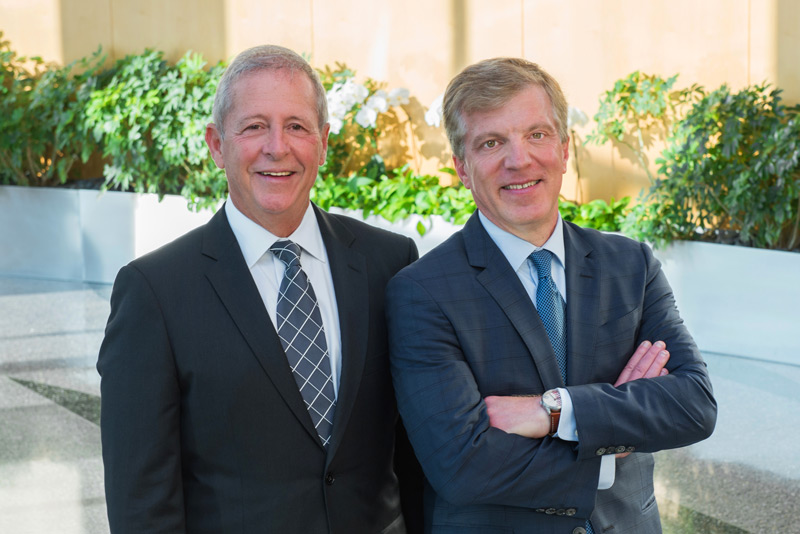 Stein Sperling is pleased to announce that Jeff Schwaber has succeeded Millard Bennett as the firm's Managing Partner. This move culminates a carefully crafted five-year transition plan.
An indispensable member of the Stein Sperling team for nearly thirty years, Mr. Schwaber has long held a reputation as a superlative trial lawyer with particular mastery of complex business and commercial litigation cases. In addition to continuing to lead the firm's Civil Litigation Group, Jeff now looks forward to embracing his new role as Managing Partner as a way of giving back to the firm to which he is deeply committed and which has nurtured his career.
As Jeff notes, "We have a culture of support that encourages the development and growth of lawyers from associate on up in a collaborative, connected environment. I grew up here as a lawyer, and have every expectation that we will continue this practice. Being part of the team means everything here."
While serving as Managing Partner, Mr. Bennett actively built and has maintained a large, varied and successful Business Law practice, earning recognition as a "Best Lawyer" in US News and World Report, Super Lawyers magazine and as an AV Preeminent Lawyer by Martindale-Hubbell, that he will continue now on a full time basis. Under his leadership, Stein Sperling has remained true to its foundational ideals of nurturing leadership, management, and teamwork and as such, the transition from Millard to Jeff is a natural progression in the firm's evolution.
"I have taken great pride in our firm's dynamic growth over the course of 40 years from a newly-established three-person practice, together with fellow founders Paul Stein and Donald Sperling, into one of Montgomery County's largest and most highly-respected firms," reflected Mr. Bennett. "I feel tremendous pride in Stein Sperling, and I know that Jeff, who has long been an integral part of our team, is the ideal person to lead the firm forward."
Mr. Schwaber intends to continue to maintain and grow his robust litigation practice while focusing on his new role. "Our founders put great thought and attention into building a model that perpetuates itself and grows organically," he said. "I am very excited about Stein Sperling's future."
Stein Sperling has 50 lawyers, who practice primarily in Maryland, Virginia and DC. The firm is headquartered in Rockville, Md., and has offices throughout the Metropolitan area.
---