February 7th, 2022
Dealing With Supply Chain Issues in Home Renovations and While Building Custom Homes
Posted in: Construction Law Featured Real Estate Law Tagged: Andrew L. Schwartz, Beth M. Irving
Author: Beth McIntosh Irving & Andrew L. Schwartz
Have you spent the duration of COVID-19 dreaming of renovating your kitchen, a bathroom, adding a much-needed home office, or even building a custom home? If so, you are not alone as many homeowners are rushing to start home improvement projects, are waiting for their projects to be completed, or are looking into building their own custom home. Increases in building material costs, material shortages and significant delays are some of the unexpected consequences of the COVID-19 pandemic referred to as "supply chain issues". Your dream kitchen will not be functional without the cabinets and your bathroom will not be usable without your specially ordered fixtures being delivered on time. Homeowners can help protect themselves from supply chain issues by consulting with an attorney BEFORE entering into a construction contract and/or by having well-drafted custom home construction contract executed before the design and construction of your dream home commences.
Home Renovation Contracts
The cost of a home improvement project can be established in a variety of ways. The best way for a homeowner to protect themselves against increased costs is to require a fixed price for the project. In this market, however, many contractors are not willing to bear the entire risk of price increases and are requiring that the price of the project be determined by the cost of the work plus a fee for the contractor. This manner of pricing the project will not protect the homeowner unless a guaranteed maximum price is included.
Now may not be the time to order tile from overseas or specialized materials. Having some flexibility over the materials going into the project will help with delays and potential price increases. It is recommended to have the contractor specify that material will be ordered from manufacturers or suppliers where there is no evidence of supply chain disruption at the time the contract is executed. You should provide that if the contractor does not take into account known supply chain disruptions and/or price escalations that the contractor bears some or all of the increased price or time delays. Above all, stay in touch with your contractor and provide for change orders where necessary to address situations in which your materials may be delayed significantly. If you need to enter into change orders on material selections, then it is recommended to provide in the contract that such change orders will not be subject to overhead or administrative charges. These charges add up and can significantly increase the price of your project.
One way to possibly get your contractor to work hard and finish the project in a timely manner is by providing a bonus if the project is completed early and within the budget. Liquidated damages are a heavily negotiated clause in contracts, but if agreed to may provide another manner of protection for the homeowner. A liquidated damages clause requires the contractor to pay a daily fee for each day that the project is late beyond the agreed-upon completion date. This is helpful from a damages perspective but doesn't get the homeowner back into the house to enjoy their renovated home.
The phrase "Force Majeure" has become well known during COVID-19 as contracting parties look for ways to excuse their timely performance or payment of monetary obligations. A Force Majeure provision provides that timely performance and/or monetary obligations can be excused for acts of God, weather, or any cause beyond a party's reasonable control. The contractor and the homeowner have competing interests when it comes to a force majeure clause as the contractor will want to include an extensive provision that permits delays in the project for pandemics, government shutdowns and supply chain issues. The homeowner needs to exclude those items, or the project could take a significantly longer time to be completed and the contractor will not be responsible for delays caused by one of those force majeure events.
Custom Home Construction Contracts
As home prices have skyrocketed during the COVID-19 pandemic, many homeowners are eager to sell and take advantage of the hot real estate market and build their own custom home rather than renovate. If you are looking to build a custom home, then there are several considerations that must be included in any custom home construction contract.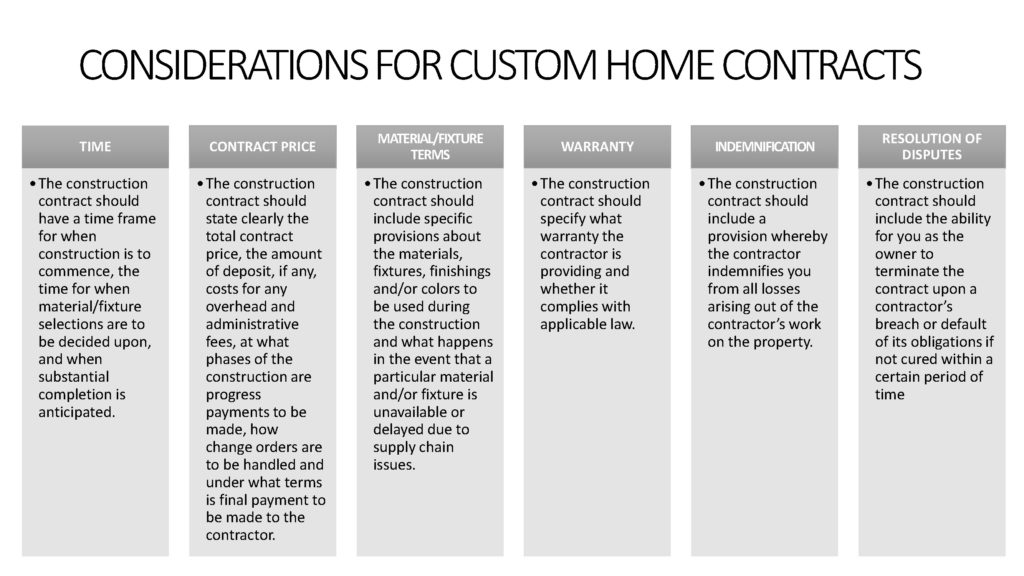 Time – The construction contract should have a time frame for when construction is to commence, the time for when material/fixture selections are to be decided upon, and when substantial completion is anticipated. As stated above, you may want to include incentives for the contractor to complete the work timely and on budget and provide for liquidated damages in the event that the project takes longer than anticipated to build. Stipulated liquidated damages are a set cost per day, reflecting your costs should the home not be completed per the contract completion date.
Contract Price – The construction contract should state clearly the total contract price, the amount of deposit, if any, costs for any overhead and administrative fees, at what phases of the construction are progress payments to be made, how change orders are to be handled and under what terms is final payment to be made to the contractor.
Material/Fixture Terms – The construction contract should include specific provisions about the materials, fixtures, finishings and/or colors to be used during the construction and what happens in the event that a particular material and/or fixture is unavailable or delayed due to supply chain issues.
Warranty – The construction contract should specify what warranty the contractor is providing and whether it complies with applicable law.
Indemnification – The construction contract should include a provision whereby the contractor indemnifies you from all losses arising out of the contractor's work on the property.
Resolution of Disputes – The construction contract should include the ability for you as the owner to terminate the contract upon a contractor's breach or default of its obligations if not cured within a certain period of time. Additionally, it is always recommended that an attorneys' fees provision be included in the event of a breach of the contract by the contractor. Unfortunately, construction contract disputes may result in litigation, which can be costly, and it is important to have an attorneys' fees provision to shift the burden of the costs to the prevailing party in any dispute.
If you are currently experiencing problems with your contractor, want to get started on a home improvement project, or are looking to build your own custom home, then Stein Sperling has an experienced team of construction and real estate lawyers that can provide you with valuable advice. Don't wait until there is a problem. Engage an attorney to review and negotiate your construction contract prior to execution to avoid any pitfalls and keep your project on track and within your budget.
---