September 13th, 2023
Stein Sperling Included in Bethesda Magazine's Top Places to Work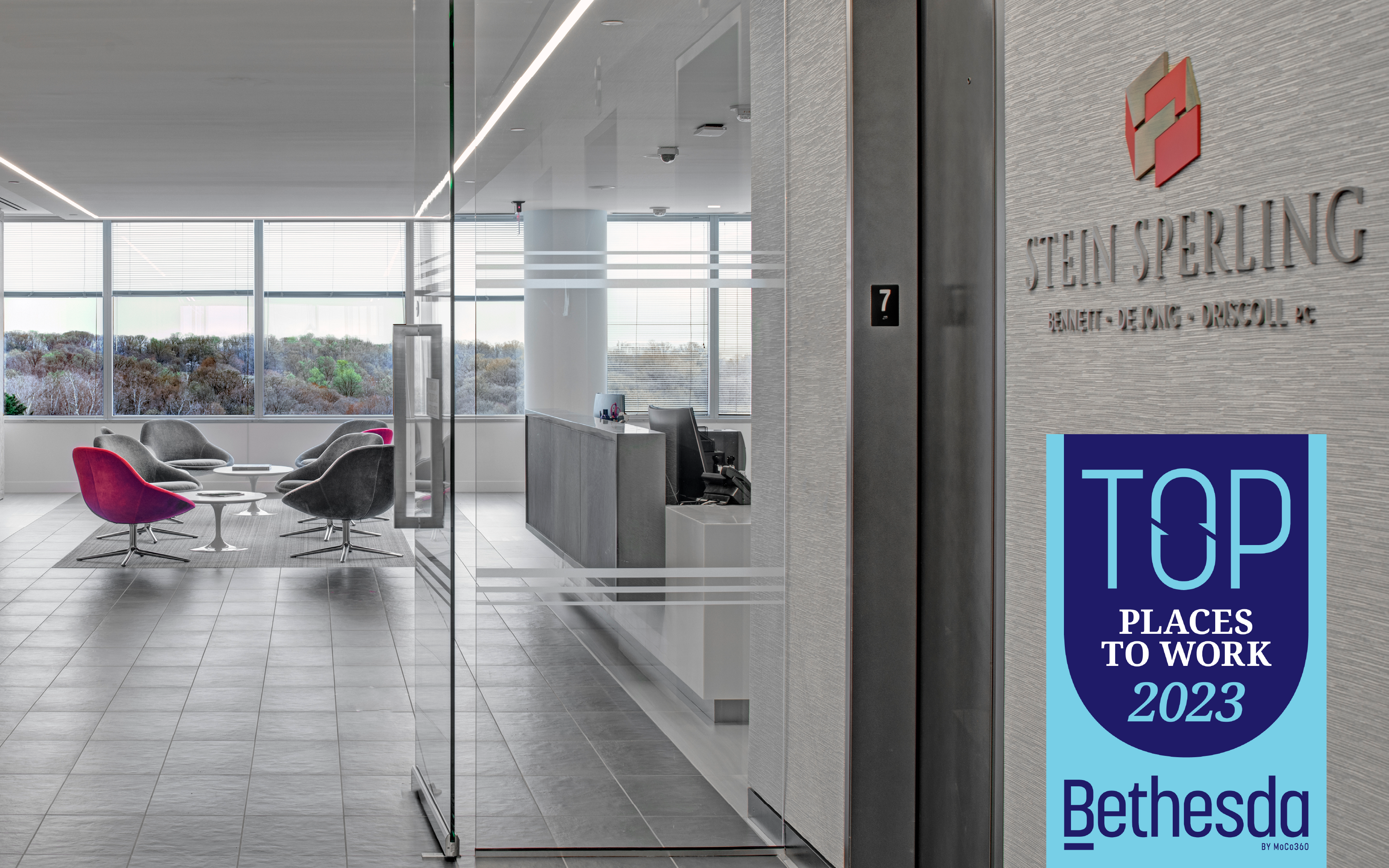 Stein Sperling is thrilled to announce its continued recognition from Bethesda Magazine as one of the region's "Top Places to Work," for the third consecutive year in 2023. This prestigious distinction marks our enduring commitment to building a talented legal team, enriched by their diverse cultural backgrounds, interests and career experiences.
This award comes in addition to recognition by The Daily Record, who named Stein Sperling a recipient of the 2023 Empowering Women Award . This prestigious honor highlights our steadfast commitment to supporting and elevating women in Maryland, showcasing our tangible and innovative efforts to advance women in both the workplace and the community.
Jeff Schwaber, the Managing Partner of our firm, expressed his pride in this accomplishment, stating, "This recognition is a wonderful honor, but more importantly it is a challenge; to continue to foster a diverse and inclusive environment that values the individual and collective contributions of every single member of our extraordinarily talented team. We understand that our strength is our people, and that our combined strength is greater than the sum of individual parts, allowing us to be our best for our clients."
The selection process for Bethesda Magazine's "Top Places to Work" list involves a comprehensive two-part survey. In the first part, each nominated company's workplace policies, practices, philosophy, systems, and demographics are evaluated, accounting for approximately 25% of the total assessment. The second part involves an employee survey, which accounts for approximately 75% of the total evaluation, measuring the overall employee experience. The combined scores from these two parts determine the top companies and their final rankings. Best Companies Group is responsible for managing the registration and survey process for Bethesda Magazine, analyzing the data, and determining the ultimate rankings.
Stein Sperling is proud to be among the select few honored on the "Top Places to Work" list for the third consecutive year, reaffirming our commitment to nurturing a workplace where our employees thrive, and our clients benefit from the collective strength of our dedicated team. We look forward to continuing this tradition of excellence in the years to come.
---