October 26th, 2021
Stein Sperling Listed in 2021 Bethesda Magazine's "Top Places to Work"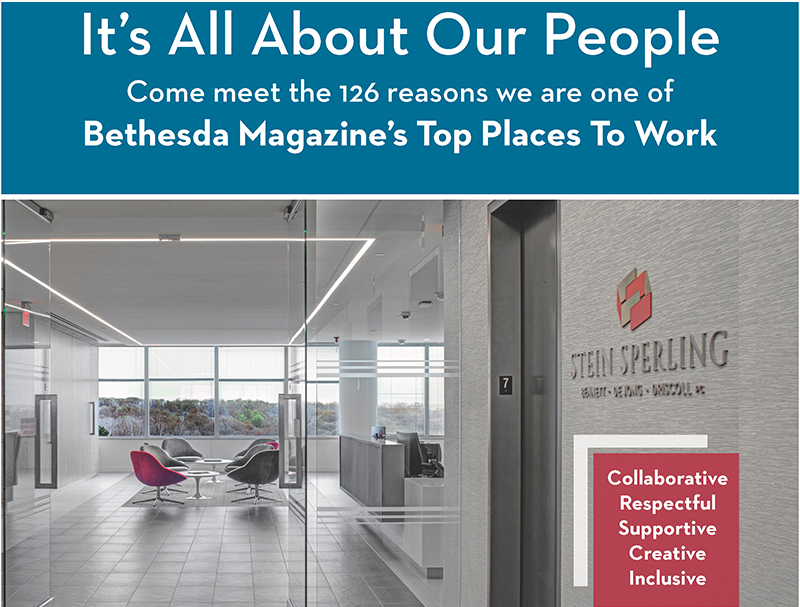 Stein Sperling is pleased to be listed among Bethesda Magazine's "Top Places to Work" list for 2021, one of only 16 companies.
The ranking list is designed to identify, recognize, and honor the best places of employment in Montgomery County and Upper Northwest D.C., benefiting the state's economy, its workforce, and businesses.
Connection and confidence are the foundation of Stein Sperling's culture. The firm has as its cornerstone the notion of teamwork – a collaboration between and among its people designed to benefit from everyone's ideas, strengths and differences, and to maximize the role Stein Sperling can play for its clients. The Top Places to Work designation stands in confirmation of the culture the firm has established.
"Our firm prides itself not only on client satisfaction but on employee satisfaction", said Jeff Schwaber, the firm's Managing Partner. "We are honored by this distinction, and take it as a challenge to continue to do our very best to cultivate an environment that our people enjoy being a part of, knowing our collective whole is stronger than the sum of our parts".
Companies from across the Bethesda area entered the two-part survey process to determine the "Top Places to Work." The first part consisted of evaluating each nominated company's workplace policies, practices, philosophy, systems and demographics. This part of the process was worth approximately 25% of the total evaluation. The second part consisted of an employee survey to measure the employee experience. This part of the process was worth approximately 75% of the total evaluation. The combined scores determined the top companies and the final rankings. Best Companies Group managed the overall registration and survey process for Bethesda Magazine, analyzed the data and determined the final rankings.
---