Event Date: Tuesday, October 22, 2019
October Update for Accountants and Financial Planners
Posted in: Business Law Events Events Tax Law Events Tagged: David S. De Jong, Eric J. Rollinger, Mark W. Schweighofer, Michael Y. Goldberg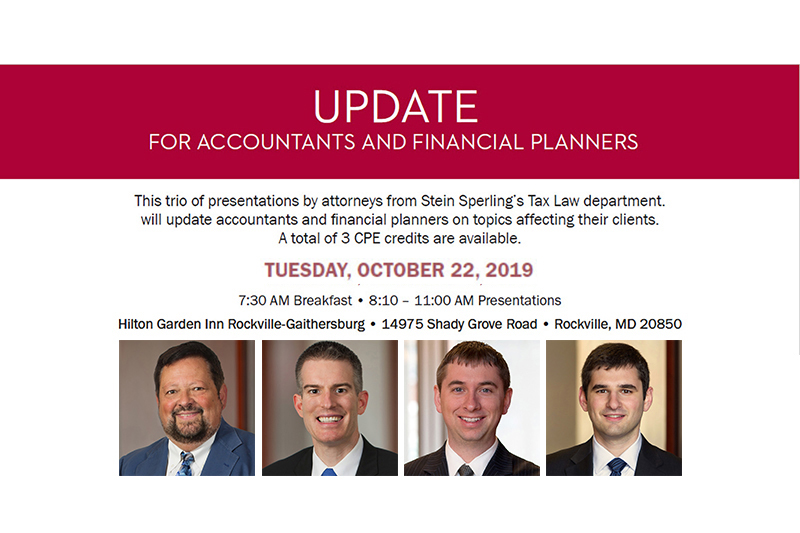 Time: 7:45 a.m.-11 a.m.
Location: Hilton Garden Inn Rockville-Gaithersburg
Speaker: David De Jong, Eric Rollinger, Mark Schweighofer, Michael Goldberg
---
This trio of presentations by attorneys from Stein Sperling's Tax Law department will update accountants and financial planners on topics affecting their clients. A total of 3 CPE credits are available.
Cryptocurrency and the IRS
Virtual currencies including bitcoin are a decade old and, while used at times to facilitate illegal activities, they are more often associated with legal transactions and market speculation. In any event, they have caught the attention of the Internal Revenue Service, which has promised to step up enforcement as they are treated as "property" for tax purposes. This session will focus on the recognition and reporting of taxable transactions involving cryptocurrency. Presented by tax attorneys Eric Rollinger and Michael Goldberg.
Tax Issues on LLC Formation
Limited liability companies have become the entity of choice not only for real estate investments but also for most small and mid-size businesses in part due to their operational flexibility such as permitting disproportionate capital contributions. However, using an LLC is replete with minefields. This program will focus on tax issues in setting up an LLC including needed provisions in the Operating Agreement. Presented by tax attorney Mark Schweighofer.
"Hidden" Taxes in the DMV
Maryland's Admissions and Amusement Tax, the District of Columbia's Ballpark Tax and Virginia's Business, Professional and Occupational License Tax are among the multiple taxes that are often forgotten by laypeople and professionals alike. Illustrated by Maryland imposing its sales tax on asset sales of entire businesses, other taxes abound with hidden traps. This session will focus on recognition of those unknown and little known nuances among our localities. Presented by tax attorneys David De Jong and Eric Rollinger.