December 14th, 2020
31 Stein Sperling Attorneys Named to 2021 Maryland Super Lawyers List
Posted in: Business Law Commercial Litigation Construction Law Criminal Law Employment Law Estates, Trusts & Probate Family Law Firm News Personal Injury Real Estate Law Tax Law Tagged: Adam S. Abramowitz, Ann G. Jakabcin, Caroline Ford Bonaviri, David B. Torchinsky, David S. De Jong, Deanna L. Peters, Donald N. Sperling, E. Andrew Cole, Eduardo S. Garcia, Fred A. Balkin, Ivonne C. Lindley, Jamie Alvarado-Taylor, Jeremy M. Vaida, Judith G. Cornwell, Julie B. Christopher, Karen N. Shapiro, Kathryn E. Deckert, Mark W. Schweighofer, Matthew J. Pavlides, Micah A. Bonaviri, Michael Y. Goldberg, Michelle L. Vesole, Millard S. Bennett, Monica Garcia Harms, Rebecca A. O'Neill, Steven A. Widdes, Steven B. Vinick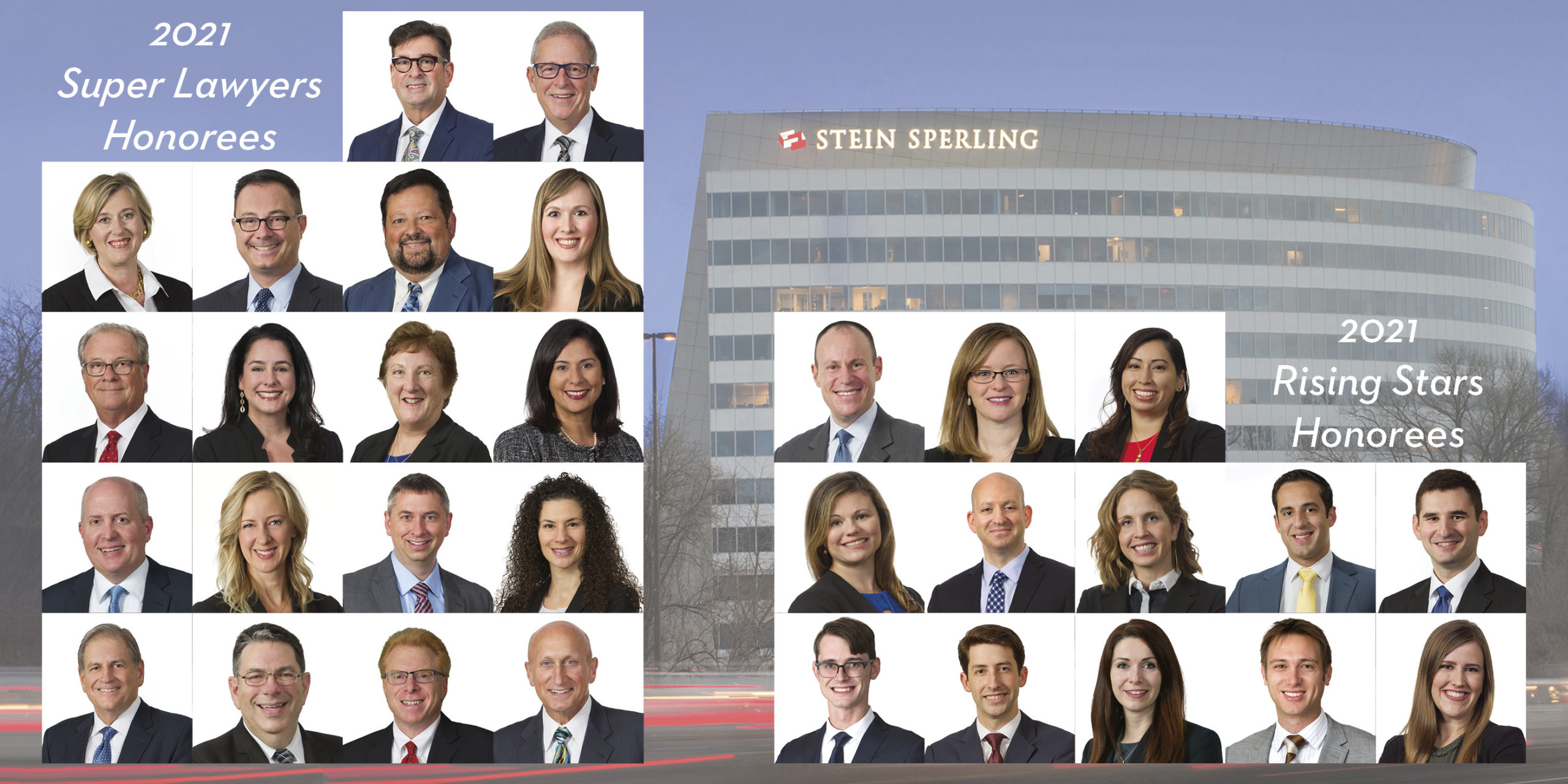 Stein Sperling is proud to announce 31 of its attorneys have been selected for inclusion on the 2021 Maryland Super Lawyers list, including attorneys on the Top 10, Top 50, and Top 100 lists.
A few highlights from this year:
Four Stein Sperling Attorneys are on the Top 100: 2020 Maryland Super Lawyers list.
Estates and Trusts attorney Steven Widdes again was placed in the Maryland Top 10.
Family Law Attorneys Monica Garcia Harms and Julie Christopher were listed again as Maryland Top 50 Women.
Super Lawyers develops and annual list of outstanding lawyers from more than 70 practice areas who have attained a high degree of peer recognition and professional achievement. Every year Super Lawyers selects attorney using a multi-phased process, including independent research, peer nominations, and peer evaluations. Rising Stars recognize the top 2.5% of younger attorneys in the state who are under 40 years old and/or have practiced for fewer than 10 years.
The following is a complete list of Stein Sperling attorneys included on the 2021 Maryland Super Lawyers list:
The 2021 Maryland Rising Stars list includes:
---